Fisticuffs slot game – original and interesting
07/04/2021
|
Categories:
Blog
|
Published by:
Tom Hanks
Fisticuffs video slot is a development of the famous software company for online casinos Net Ent. Slot machine is dedicated to a kind of boxing called Fisticuffs (Fist Boxing), which enjoyed great popularity in England.
This original form of boxing is closely related to the ancient martial arts. The fight is held between two opponents, without the use of boxing gloves or any other similar means. Unlike street fights, Fisticuffs has an accepted set of rules, for example, it is forbidden to hit a lying opponent. Our review of Fisticuffs will introduce you to this original slot machine.
THE DUEL BEGINS
Fisticuffs video slot consists of five reels and 10 continuously active paylines. Among the symbols you will see a gong, boxing gloves, championship belt, stool, cup and others. The graphics in this slot machine is quite high level, all the pictures are well traced, and in addition you will see some animated scenes.
An interesting feature of this video slot is that the prize combination there are both left to right and right to left. To get the winnings you need a minimum of three pictures. If the combination is formed of five characters, it will be paid twice.
FEATURES ONLINE SLOTS FISTICUFFS
Video slot Fisticuffs is a development of well-known software company for online casinos Net Ent.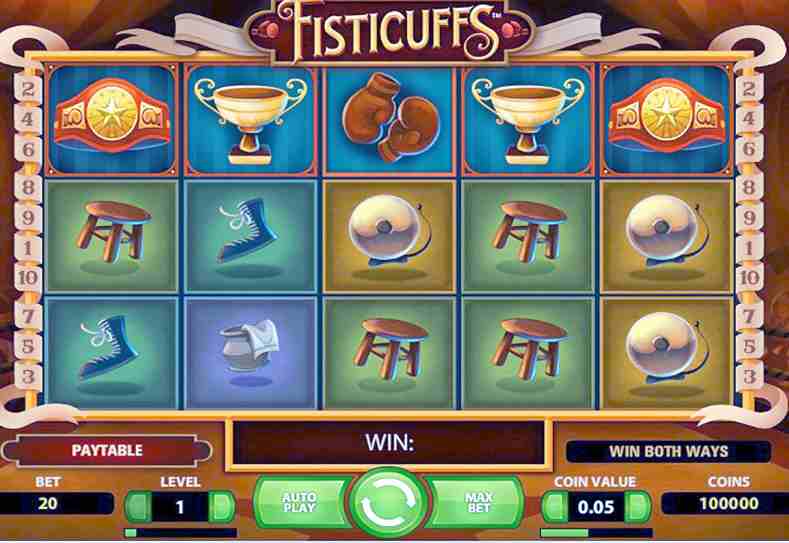 In the slot machine there are three wild symbols:
Regular Wild – replaces other symbols. On the first and last reel appears in strips of three pictures
Straight Wild – fat man in a hat. Just replaces the other pictures, but located only on the middle reel
Diagonal Wild – thin fighter. Performs the same function as the previous two symbols, but located on the second and fourth reels.
When boxers appear on adjacent reels, a prize round called Boxing Feature is activated. Events in it can develop in two scenarios, but in either case, the player is awarded one free reel launch.
One or two Diagonal Wild symbols are on the same line as the Straight Wild. In this case, the fatty rolls his opponent on the first or last reel, and all the pictures in between become wild symbols.
One or two Diagonal Wild symbols are placed diagonally from the Straight Wild. In this variant, the skinny fighter strikes his opponent, and the symbol above or below him becomes the wild. During the prize spin all the wild symbols remain in their places.
Video slot Fisticuffs – quite original and unusual slot machine with good graphics and interesting bonus features. According to Net Ent it has a theoretical return of 96.7%.
Relevant news